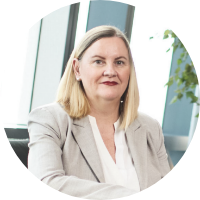 Roisin Wadding
Head of People & Purpose

, KPS World
When Roisin was asked by the Chairman to join KPS as Head of People and Purpose she realised it was going to take a lot of hard work and smart thinking.
With 500 Employees, KPS Group is a technology-led and design-focused interior contractor operating across five countries, including UAE, KSA, Egypt, Lebanon and France. KPS' services bring commercial spaces to life by tapping into trends, innovations, and resources because they believe that every space holds the opportunity for something remarkable. Well known for their stand-out pavilions constructed for Sweden and the UK at Dubai EXPO 2020, their Client list is a roll call of Marquee names from the UK to UAE, Kingdom of Saudi Arabia to Egypt, Lebanon to France.
Not surprisingly, KPS' Leadership and teams are ambitious and progressive too.
Roisin's mission is to bring her considerable experience in businesses of many shapes and sizes to establish a foundation for Growth – Organisationally and Culturally.
But when she joined, the times were 'interesting' to say the least. In September 2020, right in the middle of the COVID Epidemic, she set about establishing a framework that would deliver a world class People and Purpose strategy across three pillars of the Employee Journey, Employee Engagement and Digital transformation….and her start point was somewhere that meant that almost everything needed to be done – ground up.
Benefitting from that prior experience, Roisin created the relationships she needed around the business and put in place a team of change agents across the Group. She built on this to ensure that clear policies and practices were agreed and delivered the Company's first full Policy Handbook in a few months.
In partnership with her long standing and very experienced Group ERP Manager, Mohammed Riyaadh Aziz, she also identified the primary capabilities that would be needed from technology:
1. Simplify processes in a 'Single Version of Truth'
2. Deliver Management Information continuously and 'at the touch of a button'
3. Reflect that clear and simple Employee Journey
4. Embed the performance and engagement culture
5. Provide a modern digital experience to everyone in the business – any device, anywhere.
iXerv is proud to have been chosen by Roisin, Mohammed Riyaadh and the KPS Board as the Partner for the digital People transformation with Punch™
We are all focussed on Roisin's goals, we are all working together to help her achieve that mission. It's not easy – change projects never are – but by focussing first on 'The Brilliant Basics' in Punch™ we are getting on with the project and will deliver it in the Spring.
At times it feels like we're boiling a bit of an Ocean, but as we all remind ourselves, boiling Oceans can be done when you just go at it 'one Kettle at a time'. And when we come to deploy to KPS staff, Managers and the Board we'll be making the change as easy to consume as we possibly can by exploiting the approaches we have developed with other Customers.