33% of New Starters are looking to leave within the first 6 months.
And two thirds of them go on to leave within a year.
That's a lot of time and money down the drain.
So what can you do about it?
Starting a new job is like the first day of school. Remember the last time you had a 'first day' at school? The last time I had that experience, I was 11, so it's been a long time. But the trepidation and excitement are a familiar feeling – going to a new place, meeting new people, getting a feel for the environment you'll be working in and the work you'll be doing.
The first day can set the tone for the first week and the first month which are, arguably, the most important milestones in onboarding because that is the time it takes a new recruit to settle in and find their feet.
The last first day I experienced a new job start was wonderfully positive ( and pre-covid);
My manager met me in reception when I arrived
I was introduced to the rest of the department and shown where I would be working
My laptop was up and running – I just needed to login and change my password
I already had some calendar invites and emails waiting
I certainly wasn't going to be sitting, twiddling my thumbs! I was shown where to make a drink if I wanted one (a high priority for someone who drinks a lot of coffee in the morning!), where the staff canteen was as well as how to order food for lunch, and then my manager and I sat down together with hot drinks in hand to go through my induction folder.

Looking back, it's a bit old-school to think everything I needed was in a folder but this was before the organisation had a fully functioning HCM system in place. Inside the folder was a who's who of my team, the Senior Leadership Team and the Board of Trustees, a list of mandatory training to be signed off, and much more. There were also 3-month and 6-month review forms which my manager and I completed.
A collection of need to know information
It was a comprehensive, but not overwhelming, collection of need-to-know information which I kept to hand even until my last day. In short I felt as though my feet were firmly under the desk very quickly.
I know now that my onboarding experience is quite unique and most likely due to having a manager who was good at that rather important part of their job – managing people. And as a result, I settled very quickly into that role and didn't even think about leaving. I think that speaks volumes about the experience I had as a new starter.

Wouldn't it be great if everyone could have a similar experience? And if that experience could be repeatable digital rather than old school paper? In a world where people have been working from home wherever possible for the last year, there has never been a greater need to make onboarding digital.
So, how can you make sure you do it right?
Make the experience simple
Think of it from the perspective of your new starters
What would make you feel welcome and part of the team?
And remember there's good tech out there to make it a great experience every single time, rather than rely on remembering everything and hoping the photocopier works for the next intake!
If you want to chat about that tech – drop us a line.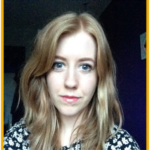 Sophie Heaviside is a guest writer for iXerv who has worked in a variety of industries and primarily at The Myton Hospices as a journalist. She brings her unique employee perspective to our HR world.