When we start a new job we all want to make a good impression – we tend to arrive early, and probably don't log off the minute the clock hits 5pm – but eventually we'll fall into a familiar routine and generally stick to the standard working hours.  Likewise, when an important piece of work is on our desk, or a deadline is looming, we may work through lunch or put in some overtime.
And quite often people in more senior roles will work longer days, log back on at night to catch up on emails they missed during the day.
When exceptional becomes normal
These are exceptional circumstances because it isn't sustainable for people to work overtime the whole time.  It isn't sustainable for business commercials either.
So what do you do when those 'exceptions' evolve into 'expectations'?

Workplace culture is important in ensuring employees feel valued and don't burnout, and a line has to be drawn somewhere if people are continually working beyond their regular hours.  If this is happening, you need to take a step back and ask why their normal workload cannot be managed within a normal, standard working day?
Lockdown effect
The majority of people have been working from home wherever possible for the last 16 months which has afforded a flexibility that the previous 'normal' routine did not – walking the dog at lunchtime is my personal favourite benefit of remote working!
For people with children, it has meant they have not needed to take time off if their child is ill.  They haven't had to devote so much time and fuss to school runs twice a day either.

But it's harder to walk away from your desk when it's in your own home.  It's easier to tell people to pack up for the day in the office.  There are cues in an office too – it's usually a sign that you need to stop when the cleaners and plant carers come around!
We can understand how such culture was created and finessed when people weren't  working remotely, but many struggle achieving this with home working.
Technology can play a pivotal role
With remote working being set to continue or even increase, technology is becoming more and more important in translating the right workplace culture into someone's own working space at home.
Whether your employees are in a dedicated work space, remote, or a mix of both, we'd like to see if we can help.  We're all about helping your employees' experience your unique culture – one that delivers for both the business and them.
It's one of the ways we help progressive businesses punch above their weight.  And it's why our Strapline starts with Experience.
Sophie
What do you think?  If you want to chat about the tech that can help your business maintain a healthy culture – drop us a line.
Read what Sophie had to say about recruiting blind.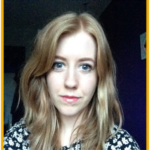 Sophie Heaviside is a guest writer for iXerv who has worked in a variety of industries and primarily at The Myton Hospices as a journalist. She brings her unique employee perspective to our HR world.